[Edit by Steven: Fixed David's URL.]
I'm writing this in our hotel room in Pittsburgh, because a certain member of the Peiratikos duo insisted on a hotel with free internet access. And we've come to Pittsburgh for the Pittsburgh Comicon, except not really. The con was fairly small and jammed full of vendors and pop culture icons (for lack of a better word) with a few artists interspersed. We came for the prospect of a blissful weekend away from reality, which really just means that there will be more bills and chores for next week than usual, and to meet fellow bloggers Ed Cunard and David Welsh, both of whom were delightful company and what I'd expected and hoped for and more. I'm amazed how comfortably real and online life parts can intersect.
I don't really know what to say beyond that except that I was a thrifty spender (Steven is still in a mostly non-comics phase, plus I'm pushier) and we have a whole bunch of trade paperbacks to read now, although I'm strongly tempted to write something about each story in Project Superior. All of that is for later, though, since the night is young and there's so much time for me to sleep! Before that, though, I need to preserve for posterity the photographic evidence of this historic meeting.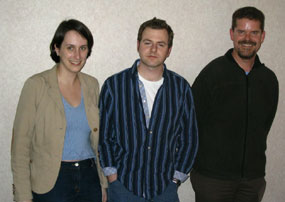 Rose, Ed, David, looking our best for this mug shot.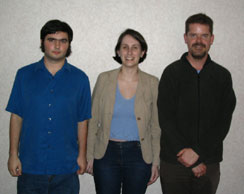 Steven, Rose, David: same setup.
And that's it for me, happy tonight.