I think you can probably take it as a given that I'm going to remain a bad blogger for a while, but I'm not actually giving up. Instead I'm going to rant a bit (at least tonight) and that's making me really excited. Rant!!
Steven and I got Vimanarama last week, since it was one of the few comics that needed to be bought the day it was out. Of course, it's taken me almost a week to talk about it, but at least I've got an angle. Grant Morrison and Philip Bond have created the first segment of a three-part story about a young South Asian British guy, Ali, who meets his betrothed, Sofia, as they set off what may become the end of the world. I think the idea is sort of a Bollywood manga with Muslim leads, which was enough to have me sold on the story, but I'm afraid it may be just too alien for some readers. Even Jog, in an otherwise excellent analysis didn't notice that the characters were in England, not India. Of course other readers didn't notice that soccer is played with the feet and a black-and-white ball (I tease, Johnny! But is youth soccer not huge in your part of the state?) so maybe I shouldn't write it off as cultural disconnect issues. Anyway, I very much enjoyed the book, but that's not quite what I'm going to talk about.
Still, there's one thing that's getting to me, and that's the issue of hijab, or Muslim dress (I use it here to mean specifically women's headcoverings, but it'll go a little beyond that). I'll be quite open in saying that I've never been to the UK, but I think I can speak with a fair amount of certainty about young Muslim women in the American Midwest, and so that's mostly what I'm going to do. Now, this is only the third mainstream comics story I've even read that involved veiled women to any major extent, the most recent previous being Morrison's introduction of Dust in New X-Men. I know Dust is still an active character in the spinoff Mutant Academy X stories (or whatever the official title is now; it had two colons when I was reading it) but I haven't kept up with those, despite being interested in what becomes of her, since what became of the rest of the characters didn't mean anything to me at all. I was a little annoyed by the outfit she wore, since she's from Afghanistan, which was certainly a topical locale, but where the blue burqa has taken on an almost mythical symbolic status, and yet she wears all black, scarf, gown, and face scarf (niqaab) which is a look I associate with Saudis or women from the Gulf states. It's visually different from the Iranian chador, which generally includes a blanket-like rather than self-closing headcovering and no face-veil. So Dust was dressed this way because it made a good visual counterpoint to Fantomex, who had a similar amount of skin showing beneath his white helmet and bodysuit. I was just never convinced there was a good cultural justification and kept waiting for it to show up. I know modesty and self-respect are issues that are playing out for her in the newer X-Men book, but I'm not sure how well that will work.
The prior instance was a story written by Brian K. Vaughn for the JLA Annual #4, in which the JLA meet Turkey's defender, young humanitarian doctor Selma Tolon a/k/a The Janissary. Her costume incorporates the Turkish flag and includes both a face veil of sorts and a red hijab. This made me laugh a lot, since part of Atat????rk's secular revolution involved outlawing headcoverings for women in public schools or civil service positions. So Turkey's great defender is a scofflaw! But this is an interesting point that ties into Vimanarama, because women who think that exercising their religion means covering their hair are stuck in a situation where they have to either leave the country or get some sort of religious schooling. So the Turkish women who study in the U.S. will disproportionately wear headcoverings, because they don't have options at home. In case you haven't picked up on this yet, I don't have anything against hijab and actually can understand the appeal. It's really empowering to be able to make yourself un-sexualized, to force people talking to you to look at your face, but of course there are practical drawbacks both in the Midwest and, I assume, in Britain, where Vimanarama is set. I do think it's only a good choice if it is a choice, though, if there are legitimate and legal options (e.g. not Turkey and not Iran, pre- or post-Islamic revolution) .
And that brings us to Vimanarama, where seemingly secularized Ali wonders about God's plan for him while threatening to kill himself if the girl he's supposed to marry is ugly. He's bringing a prayer rug to his injured brother, even though I think we can safely assume that traumatic head injuries are the sort of thing that exempt you from required prayers. And somehow Ali's father, who is traditional enough to be arranging a marriage for his teenaged son, isn't traditional enough to require that he change out of his tracksuit. It turns out Sofia's parents are equally lax, letting her travel unaccompanied in capri jeans and a midriff-baring top beneath her hooded sleeveless sweatshirt. This strikes me as a little odd just because I think it's not a culturally specific situation for parents to press their children to dress up for high-pressure situations like this, but we've still got 2/3 of the story to go and I won't be sad if this point is never explained. As it is, I think it's meant to set up Ali and Sofia as something new, both aware and accepting of their South Asian heritage while not keeping all the markers of Muslim identity, which is going to create a nice triangle with what seem to be Hindu god-beings they've roused. But I want to get back to those markers of identity, because while I realize there's a re-veiling movement going on worldwide (not unlike the Turkish example above, in part as a way to mark the wearer as separate from secular society, to make a political statement) but, at least in the area I know, it's not big among the Pakistani population. That's why I was a little surprised that Ali's home looks like this: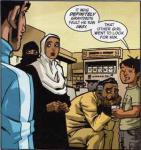 The woman with the white headscarf is his sister Fatima, but again her outfit is just a little odd. In my experience, South Asian women who wear headcoverings wear loose, colorful scarves that may not even totally cover their hair (or they may have another tight hair cover beneath that) and often a salwar kameez, or loose pants with a tunic. But anyway, not only is she wearing some sort of jilbab (long coat) with her white scarf, but it's a black one. And the other woman, potentially Ali's mother or Omar's wife or someone else entirely, has a face veil as well and in all black. I don't know if this is common among British Muslim women who veil, but it is not the standard here and struck me as odd. I wouldn't think it was all that strange for this one family to be more formal about covering or even to be part of a group that keeps stricter than standard dressing requirements, but I'm not sure how it fits into the story and what exactly is being portrayed. Is this a literal representation of the clothes women in a family like Ali's would be wearing, or is it supposed to be symbolic of the roles they play as Muslim women? It's because this is such a powerful symbol that there are arguments about veiling and control of veiling in post-revolutionary Iran and Turkey and the recent school legislation in France. It's an issue of personal choice, but also more, and I'm interested to see what the "more" in this case will turn out to be. Of course, there's good reason to disagree and say that Vimanarama isn't set in a world that's like ours but for the magic stuff, but in one that's fundamentally different in many ways.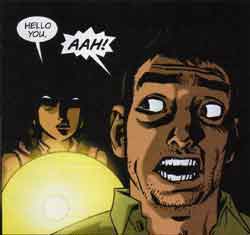 Wrapping things up a bit, Marc Singer already noted what I was going to comment on, that the Adidas-like logo on Ali's jacket approximates the shape of the magical lotus. I do still want to point out Sofia's first appearance, above. Covered in darkness, her hair and upper face are covered as if by a veil, her eyes pupilless slits. And so the focus is on her mouth and neck and shoulders, a sort of anti-hijab that at the same time draws Ali to her face, although he definitely later gets around to checking out her body. Her still face seems like an allusion to the masks Morrison so often uses, a reminder that all of these women are bodies onto which things are being projected. Ali's eventual task is not just to find Imran (and wow, "Looking for a baby?" is some pickup line!) but to find the real Sofia beneath her collected facade and, along the way, to find himself. But beginning with this scene, Sofia is in control, the more secure and active of the two. Until that point, Ali had been the go-to guy in his family, the one who could be depended on to take charge (even if with some sighs) and do whatever needs to get done. And yet as the world shifts, Sofia is the one who finds the clues to get to Imran's location, despite being new to the region, not to mention this magical area. Yet with the appearance of the Ultra-Hadeen, there's another shift, and both Sofia and Ali are unsettled, among strange beings who are not their God, and ready to embark on something very, very new. I know I'm right with them.