Scott Pilgrim's Precious Little Life vol. 1, written and drawn by Bryan Lee O'Malley, is a lovely book. It does not, however, have page numbers. Boo! You should read it anyway, though. You should read this PDF preview.
---
I'm not a fighter I'm a lover
but if you run
better run for cover
"Scott, are you a lover or a fighter?" asks Young Neil. "He's totally both, but he won't admit it," says Stephen Stills. Scott answers both, "Hey! I'm not just both! I'm so much more!"
Lover. Fighter. Rock Star. Hero. And So Much More. This is Scott Pilgrim's Precious Little Life.
Alan David Doane writes in his review of Scott Pilgrim:
Scott Pilgrim's Precious Little Life is, among other things, a story about the dumb things guys do in their 20s, and the complicated minefield that is the relationship tapestry of any group of people, but especially, again, those in their hormone-soaked early adult years.
Scott Pilgrim's irresponsibility comes from a romanticism that seems inspired more by video games and rock 'n' roll than by Byron. Scott celebrates love and heroism, and he embraces his own individuality to the point of annoying his friends. He has no connection to reality. He obsesses over his romantic fantasies, but he can't figure out that the URL for Amazon.ca is amazon.ca. When his brilliant plan to lure the delivery girl of his dreams to his door is thwarted by Amazon.ca's inability to deliver CDs within minutes of his ordering them online, he flies into a rage. Reality for Scott is a half-glimpsed mystery that continuously thwarts his attempts to escape it, but he seems to have managed for 23 years to avoid facing it, with little consequence. He's a freeloader with no job prospects, but he's collected a group of friends willing to support him as he pursues his own romantic individuality.
His strategy in life is to elevate banal experience into narratives of romance and heroism, as in his story about meeting Knives Chau on the bus. Knives is on the bus being badgered about boyfriends by her mother, she drops her books, Scott helps her pick them up and tells her, "Hey… don't worry about it." Hardly gripping stuff (Scott's friends are unimpressed), but the art—especially the final shot of Scott, filling three quarters of the page, the point of view tilted and slightly below Scott for extra dynamism—makes the story look exciting.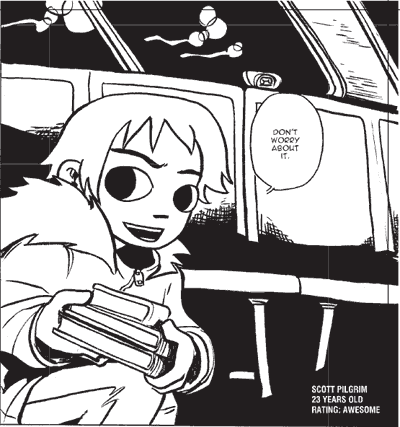 "Scott Pilgrim is dating a high schooler!"
Knives Chau is an ideal "girlfriend" for Scott. He doesn't want sex or even kissing. Knives is still deep in the teenage world of ridiculous complex webs of (quasi)romantic relationships in yearbook class become epics of love and betrayal. She totally buys Scott's rock-hero image—the first time she hears his band play, her eyes acquire a starry, almost zombielike glassiness of pure adoration. Her infatuation with Scott's heroic self-image makes her a threat. Scott loves her because she tells him stories and because she adores him, but that adoration means their relationship is in constant crisis. They hover on the edge of a first kiss, neither falling over or stepping back, and that's how Scott likes it—he certainly doesn't seem interested in taking the relationship to the next level. There's the danger that Knives will, but it must seem to Scott like a safe danger, since Knives is embarrassed even to hold hands and seems simply to enjoy the attention of an older man. But her obsession with the band looks dangerously like taking it to the next level, which is confirmed when Knives shoves the relationship into physicality.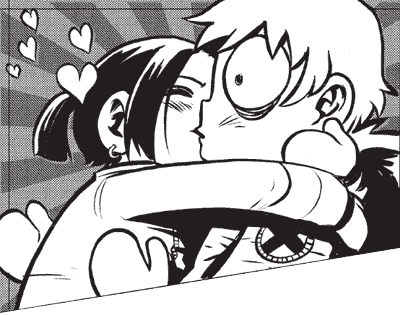 The kiss is complicated by the recent entrance of Ramona Flowers into Scott's life.
Ramona Flowers is the girl of Scott's dreams. She rollerblades through a subspace highway which takes a route through Scott's brain as she delivers packages for Amazon.ca. Through no fault of his own, as a side effect of subspace travel, he gets totally obsessed with Ramona as she glides through his every dream.
Ramona Flowers is another ideal girlfriend for Scott. Unlike poor Knives, Ramona appeals to Scott's sexual appetite as well as his romance. She turns his life into a music video/video game, complete with ridiculous mythic backstory about seven evil ex-boyfriends Scott must defeat to win her. Knives has only her high-school stories and her adoration. Ramona isn't as impressed with Scott's idiosyncracies, but her appearance in Scott's life skyrockets him into his own precious fantasy world.
He's a juke box hero, got stars in his eyes
Yeah a juke box hero, stars in his eyes
The book starts out looking like slice-of-life, but Scott's precious little life overpowers the naturalistic storytelling and replaces it with a narrative inspired by the (post)modern heroic romances of rock stars and video games. Can he get away with that? What are the limits of his romanticism? What'll happen with Knives? Will Scott ever face the consequences of his insistence on being the hero of whatever story he finds himself in? Will he end up an evil ex-boyfriend himself?