I always enjoy seeing what other internetty folks look like, so I'm finally going to return the favor (?) by posting a few of our wedding pictures. Actually part of the reason we've never shown up here before is that it's been almost impossible for both Steven and me to look sane and human in any given photo, but the sheer prevalence of cameras managed to break that streak a bit. This isn't something I want showing up on Fanboy Rampage but is just something our readers can look at for educational/entertainment purposes. Results may vary, or something like that.
So here you have it!
Us ignoring the protocol of separation before the ceremony, getting a moment to catch our breath before it all begins: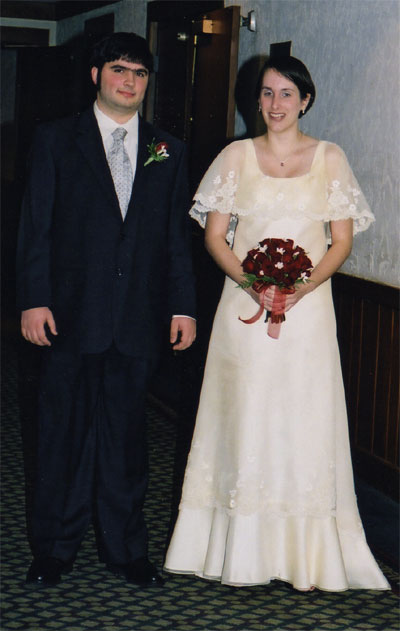 We're married here and preparing to exit the room:
And at last a posed photo from after the meal, showing the decorations in some detail. We needed something to cover the fox-hunting pictures on the walls: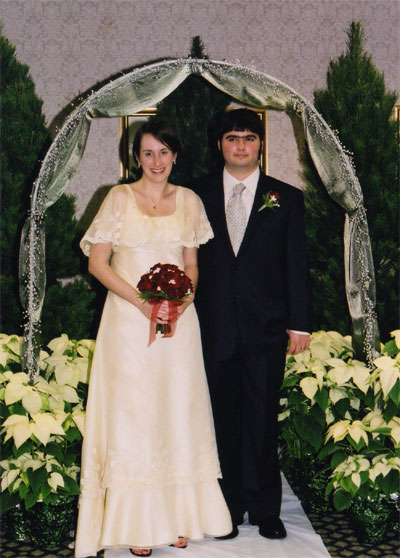 The wedding dress was my aunt's for a wedding I attended in utero and I like the gray suit Steven chose. And yes, we are such dorks that our flowers were roses and stephanotis, and I don't even apologize for it. We tried to keep things simple, secular and under control, with more success than I anticipated. I don't think I look entirely like myself in any of them, but I think we both look happy, which we definitely were. And that's all for now.