This is the year were we get a more proactive Superman that you don't want to mess with. If you're a little lost girl, he'll be there to save you, but if you're a guy with a gun or an alien armada attacking Earth, then look out because he's not going to go easy on you. This is not like Batman's revenge scenario, but more of an empowering fantasy. We all want to have the power to make a difference. Superman does, so he should. This year, he will.
No word yet on how Superman plans to deal with girls with guns or little lost boys. Perhaps he will give them rides on Comet the super-pony. Sad little lost lads and poor little lasses turned to a life of crime just need a super-pony!
Oh, wait, DC removed Comet the super-pony from continuity. No wonder lonely Superman is so unhappy nowadays: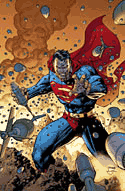 What was so wrong about Superman's best friends, Comet the super-pony, Krypto the Kryptonian's best friend, and Beppo the lovable simian super-rascal? Fuck you, DC!
[Quote from an interview with Superman editor Eddie Berganza, thanks ever so much to Graeme McMillan. Image also stolen from Comic Book Resources.]